THE argus WORLD ARGOSY

---
TO DATE:
27 Photographers on 1 Continent, in 2 Countries, including 16 U.S. States and Puerto Rico!
---
Introduction
Welcome to THE argus WORLD ARGOSY , a project by and for the members of the Argus Camera Collectors Group , through which we are passing a single Argus C-3 camera from person to person across North America and then around the world!
Each photographer will shoot a roll or two of film in this camera and then pass it on to the next photographerr on the list. He or she will then upload three of his or her photographs and some comments on each image along with either a photograph of himself or herself with the camera, or a photograph of the camera at a local landmark.
All images will be displayed on the Internet and linked to this web site. When the project is eventually completed we shall vote on our favorite photographs. The photographer of the top-rated photograph will win the World C-3 for keeps. Second place will receive an ACG cap and t-shirt donated by Doug Wilcox , proprietor of Dyno-Tees in Martinsville VA. Third prize is an Argus 75 camera donated by James M. Surprenant. Fourth place will receive a copy of the 1947 book, 1001 Ways to Improve Your Photographs which was donated by ACG Member Karl Sadler. Donations will continue to be accepted for other runner-up prizes.
SPECIAL THANKS to The Silver Nitrate Queen, aka Marcy Merrill, for hosting the individual image sites going forward. Be sure to check out her website www.merrillphoto.com and stop by her Junk Store Camera pages...she's a real inspiration, and a really decent photographer to boot!

---
About the Camera

The Argus C-3 that is traveling around the world is a ColorMatic model, serial number 1505859, which was donated by ACG member Doug Gould of Dartmouth, Nova Scotia (Canada) and tuned up prior to the start of the project by ACG member and camera repairman extraordinaire, Jaye Waas of Burbank, California. Jaye, who tracks the serial numbers of C-3s with known purchase dates, calculates that our World C-3 was probably manufactured in 1957-58. In addition to tuning the camera up to factory-fresh performance, Jaye has also re-synchronized the camera for electronic flash. ACG members who have a modern electronic flash with a PC cable will be able to use their flashgun with the camera.

---
The Participants & the Route



CLICK ON PHOTOGRPAHER'S NAME TO SEE PHOTOGRAPHS!

Who has it now?

Photographer

Location

1
Doug Gould
Dartmouth
Nova Scotia
2
Francis Roy
Hartford
VT
3
Richard Chiriboga
Groton
MA
4
Richard Sweeney
Lowell
MA
5
Bob Grahn
Foxboro
MA
6
James Surprenant
Manville
RI
7
J Ed Baker
Rochester
NY
8
Dan Kjeldgaard
Buffalo
NY
9
Allan Wafkowski
Pompton Lakes
NJ
10
Martin B. Reinbold
New Castle
DE
11
Alexander Rawles
Virginia Beach
VA
12
Wesley Furr
Harrisonburg
VA
13
Doug Wilcox
Martinsville
VA
14
Ron Norwood
Eden
NC
15
Bob Thompson
Statesville
NC
16
Jose E. Soler-Ochoa
Arecibo
PR
17
James Schenken
Aiken
SC
18
John Stepp
Clemson
SC
19
Charles Spickard
Knoxville
TN
20
Karl Sadler
Lewisburg
TN
21
Rob Watling
Akron
OH
22
Rick Oleson
Lexington
KY
23
Dan Cluey
Mason
MI
24
Mark O'Brien
Ann Arbor
MI
25
Vaughn Martens
Racine
WI
26
Tim Verthein
Bovey
MN
X
Richard Hilliger
Park Forest
IL
28
Kirk Kekatos
Grayslake
IL
29
Ed Kowalski
High Ridge
MO
30
Bill Morgan
Kansas City
KS
31
Leon Fundenberger
Topeka
KS
32
Michael Huck
Corpus Christi
TX
33
Richard Reeder
Mesa
AZ
34
Phil Sterritt
Denver
CO
35
Curtis Barrow
Great Falls
MT
36
Kirsten Barrow
Great Falls
MT
37
Dave Harris & Igor
Las Vegas
NV
38
Mike Johnson
Lancaster
CA
39
Laura Johnson
Lancaster
CA
40
Jaye Waas
Burbank
CA
41
Richard Heather
Los Osos
CA
42
David Silver
San Francisco
CA
43
Brad Barnes
Redwood City
CA
44
Toni Mitchell
Benecia
CA
45
Marcy Merrill
Tokeland
WA
46
Thomas Elmore
Anchorage
AK
47
Ken Anderson
Melbourne, Victoria
Australia
48
Simon Spaans
Delft
Netherlands
49
Daniel Gouaze
Marseille Cedex
France
50
Frik De Klerk
Rooihuiskraal
S. Africa
After initially being serviced and returned to factory fresh specs by ACG member, Jaye Wass in Burbank, California, the World Argus C-3 is now working its way east to west accross North America making stops all accross the United States.
After its North American journey, the camera will head overseas and visit Australia, the Netherlands, France and South Africa, thus truly earning it's name, The World Argus..
The World Argus is scheduled to pass through the hands of fifty Argus-enthusiasts as it makes its trek around the world. The project was started in the fall of 2002 and is expected to run over two years.

---
The Rules
Each photographer may shoot as many rolls of film as he or she likes, but must keep possession of the camera for only one week, excluding complicating circumstances.
Black & white or color is acceptable.
Auxiliary lenses and filters and other accessories may be used, but you must pass the camera on as you received it with all of the original parts and any accessories included.
Photographers are encouraged, if they like, to include a print or two with the camera when shipping it off to the next participant.
Each photographer isresponsible for scanning and submitting his or her photographs.
The scans, which may be up to a resolution of 600x900, should be sent electronically to argusargosy@lycos.com and/or marcy@merrillphoto.com for upload to this web site. Be sure to indicate "World Argosy PHotos" in the subject line of your submission.
Each photographer is encouraged to submit a fourth photograph which may be either a self-portrait either taken or not taken with the World Argus C-3. Alternatively, the photograph may show the World Argus C-3 with a notable local landmark in the background. These photos will be included atop each photgrapher's page but will be excluded from the photo contest.
A brief comment on the photographer's time with the camera which may include some basic biographical information, the list of places he or she took the camera, interesting anecdotes of other peoples' reaction to the camera, etc. These "journal entries" will be
Each photographer will receive the name and address of the next recipient of the camera by email after he or she receives the camera. Addresses will be given out as the project progresses to allow for route changes as participants may sign up or drop out.
When shipping the camera off to the next photographer, you should send an e-mail message to argusargosy@lycos.com so the web site may be updated to reflect the current position of the camera. Also it is recommended that you e-mail the recipient of the camera to confirm the shipping address and then the date when the camera has been sent. Similarly each recipient should email both argusargosy@lycos.com and the sender of the camera to confirm that it arrived safely. All registered recipients will receive the e-mail address and shipping address of the participant to whom he or she is responsible for sending the camera.
Please be certain to pack the camera well if shipping it by the postal service, FedEx or UPS.
It is permissible to hand the camera off to the next participant if he or she is located geographically near you. If you get together with other participants, please submit photos of your get together for inclusion on a related web page.
Every participant in North America assumes the costs associated with delivering the camera to the next user.
Users outside of North America agree to assume the shipping costs of receiving the camera.
When the World Argus' trip is complete, rules for voting in the contest will be posted. As of now, each member of the ACG at that time and/or participant in the program will have a number of equal votes that he or she may cast. (Several votes assure that photographers can't just vote for their own work.) A team of at least three ACG members will tabulate the votes.
The winning photographer will receive the World Argus C-3 to keep as first prize. Second prize will be an ACG T-shirt & cap. Third prize will be an Argus 75 camera. Honorable mention will go to the photographer of the picture that received the fourth largest number of votes. He or she will receive a hard-bound 1947 edition of 1001 Ways to Improve your Photographs. Other prizes may be added or donated before the contest portion begins.
In Conclusion...
Please bookmark this site and return often to track the camera's progress and view the photographs that will be posted as they are received!
Please address all questions and comments to argusargosy@lycos.com .
---
Doug Wilcox Hands off the World Argosy to Ron Norwood, 03/11/03at Dyno-Tees, Martinsville, Virginia (Home of the annual ACG Gathering!)
---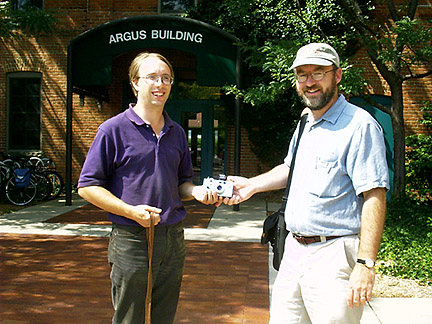 Dan Cluley hands off the World Argosy C3 to Mark O'Brien, September 2003 at the Argus Buidling, Ann Arbor, MI

---
The Argus World Argosy World Route!
---
Prepared by James M. Surprenant updated: October 17th, 2003
---